The Savings & Investing platform is a new consumer-facing digital entity that launched in October of 2020. The goal of this project was to create a single destination where customers of multiple John Hancock products could view and manage their accounts. Historically, the user experience for the company's savings and investing products had been outsourced to multiple 3rd-party vendors. The consequence of this practice was that a John Hancock customer with multiple accounts would have multiple logins to difference platforms with disparate experiences.
The launch of the Savings & Investing platform represented the first step in a multi-year strategy to bring several financial service products onto a single destination. This effort to launch was two-fold. First, we needed to design and build the architecture for a platform that could ultimately host multiple financial products, and second, we needed to migrate the functionality of our inaugural product, the John Hancock individual retirement account (IRA). 
Through this project, I served as lead designer for the platform launch while also overseeing a more junior UX designer.
• Information Architecture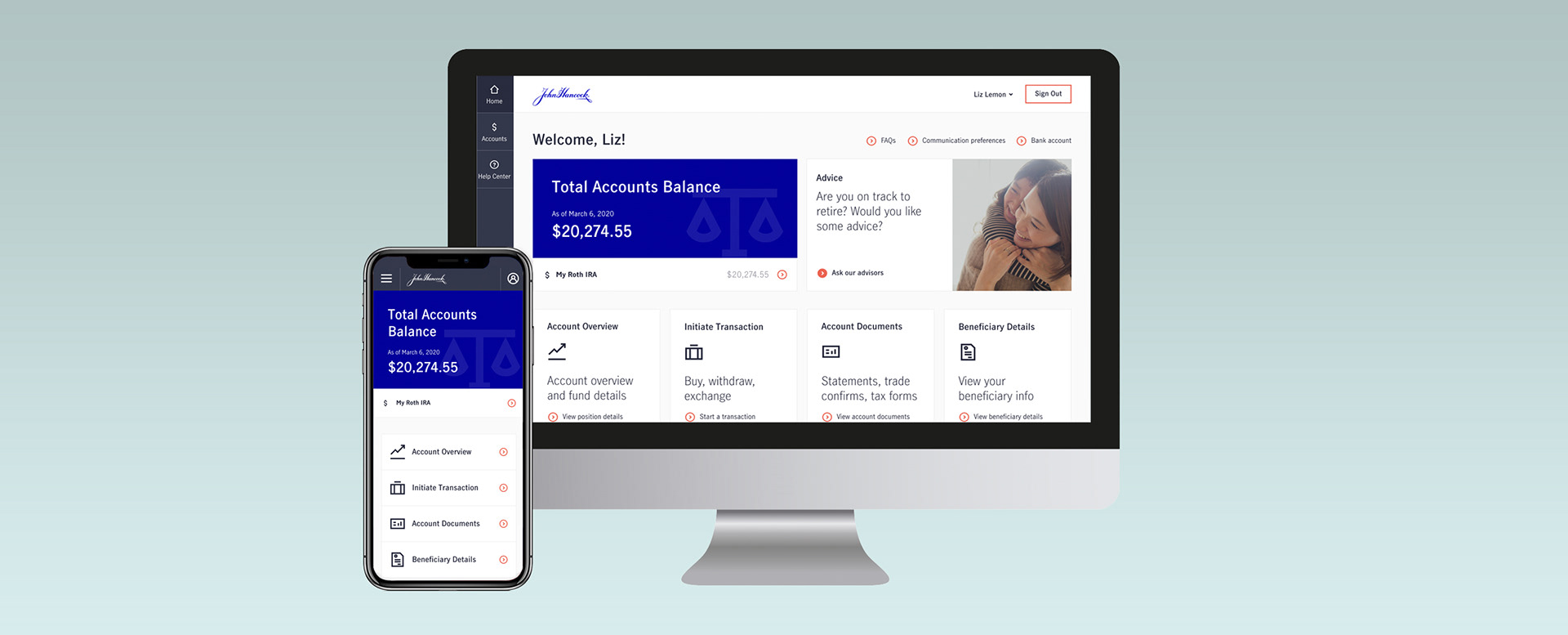 Creating the information architecture of the platform proved to be one of the more significant design challenges of this project. We needed to support the ability for a customer to have more than one account within a product, since IRA customers can hold both a traditional and a Roth IRA simultaneously. Looking to the future, the platform would also need to scale gracefully to include other types of savings and investing accounts.
It was critical that we design a navigation and system of content organization that would be clear and intuitive for a customer with one John Hancock product, as well for a person with several types of investment accounts. To gather insight into how information would be best presented, we ran a card-sorting exercise on OptimalWorkshop. In this activity, 30 participants were asked to sort cards that pertained to different types of information or actions—i.e. "
account balance
" or "
request withdrawal
" into categories. Our product/UX team created high-level categories based on some competitive analysis of other multi-product platforms, but also allowed participants the option to create their own categories if they felt something was missing. The final analysis illustrated which cards testers thought should be grouped together, and video recordings of the exercise brought to light instances where people were confused by certain terminology. Ultimately the results were incredibly insightful and informed both the taxonomy and navigation of the end product.
Transactional flows (buying, selling and exchanging funds) were both the most important as well as the most complex aspect of the platform's functionality. In reviewing the analytics of the 3rd-party site that had previously been hosting the IRA, it was clear that improvements could be made to the existing flows. After designing what I believed to be an improved user experience, it was important to test the proposed designs to mitigate any risks created by assumptions that had been made about the UX. I worked with a user researcher to conduct 20 moderated usability tests of the transactional flows. 
The results of the test brought to light a handful of instances where copy was creating friction or confusion for customers as they moved through the experience. Analysis of the testing results also revealed some trends in additional features that testers were expecting, which were used to inform our product roadmap. Shortly after the platform's launch, our team worked to implement Net Promoter Score (NPS) surveys which would trigger at specific points in the customer experience. Both overall satisfaction and transactional satisfaction are now consistently being measured to surface customer pain points and opportunities for continued improvement.