COIN is a conscious investing start-up looking to better the world while disrupting the traditional investing ecosystem. COIN's platform is an application that allows users to invest according their values by offering 8 social and environmentally-focused investment portfolios that have been designed make the maximum impact in each of their areas of focus. After selecting their impact areas and funding their account, users can continue to access the app to watch their investment grow, set up automatic deposits, or engage with COIN's blog content. In addition to supporting the imperatives of the United Nations Sustainable Development Goals, COIN's mission is to empower a new generation of investors to engage in the stock market and become better-educated investors and consumers. 
• Information Architecture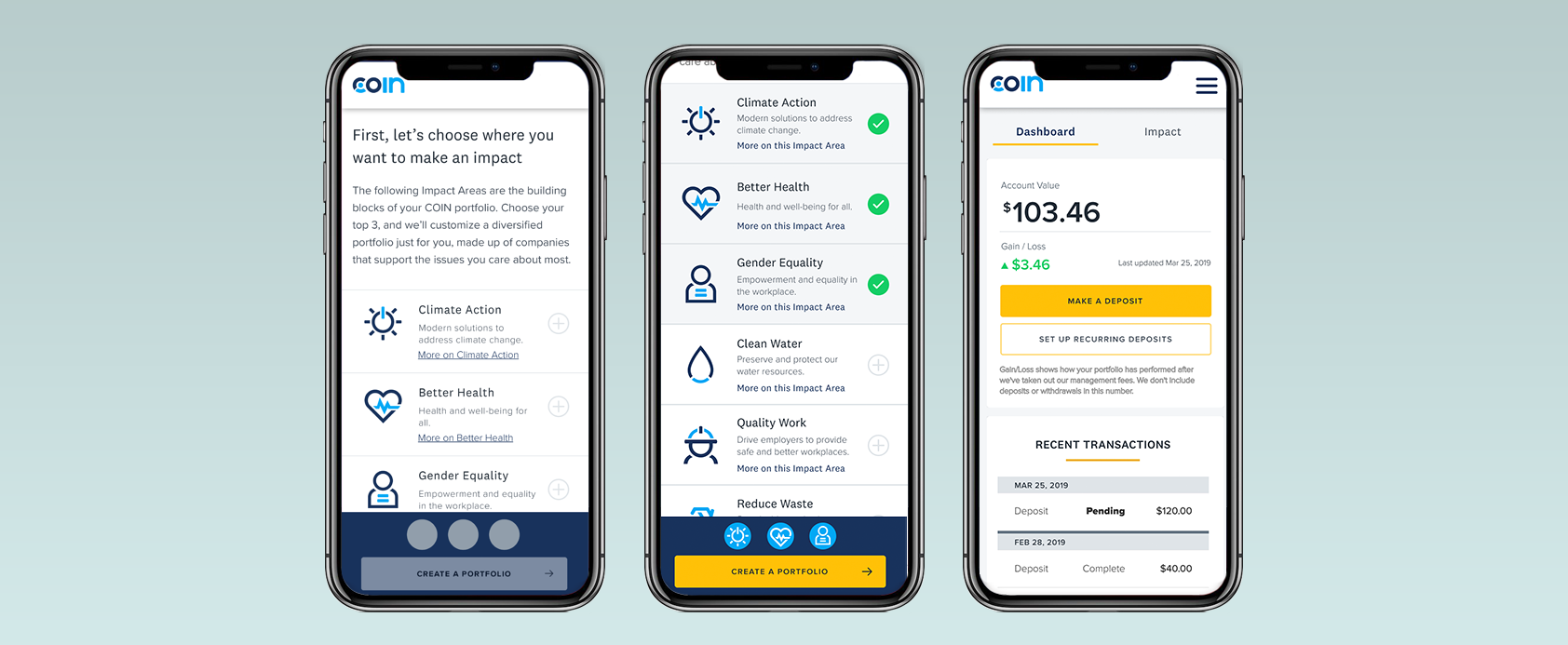 I served as the lead designer for COIN—at times overseeing another designer, and at other times working as the sole designer on the agile team. Our entire team was located in a single space with design, product, engineering, marketing and business stakeholders all sharing a workspace. The setup helped to encourage more frequent communication between the team members—boosted by the fact that our engineers were also practicing paired programming. While the arrangement required some adjusting for much of our team, ultimately, working in a shared (and relatively small) space allowed us to have more regular "on the floor" conversations and solve problems collaboratively with fewer meetings.
During my first few months at COIN, the team was focused on bringing the product to launch. Once we had a live product, we quickly realized that we would need to refine our processes as we looked to optimize and build the future roadmap. We adopted a
dual-track agile
practice to insure that we were thoughtfully evaluating roadmap items through design-thinking methodologies before they moved into our backlog. As we considered new features and optimizations to the product, I worked closely with product managers to evaluate concepts via surveys, usability tests and customer interviews. If an idea was deemed successful through the discovery track, only then would it move into the backlog (delivery track). Once in delivery, design's role was to work closely with product and engineering to plan iterations, provide assets and determine acceptance criteria. 
One of our early business goals was to increase customer acquisition by improving conversion from website visits to registered accounts. Through analytics we identified that the most significant drop-off points in our users' journey from website to account creation occurred on the first few screens of our on-boarding flow. While the analytics were useful in identifying where users were leaving the experience, we still needed answers on why they had left. 
To help add context to the analytics, I worked with our product manager to run a series of tests on usertesting.com. We started by testing the existing experience and then iterated and re-tested 2 more times based on the feedback we had received. While some of the insights we gathered were expected, other feedback really surprised us. 
We had made some assumptions with regard to the amount of content we should be presenting on each screen, based on the belief that we needed to minimize the cognitive load on the users during on-boarding. When we had testers walk through the experience, many commented that some information they expected to see was missing from the early screens in the process. Users specifically called out wanting to see the companies that would appear in their portfolio—and to understand what those companies were doing to influence positive change in each impact area.
The screens below appear as the second step in the on-boarding process, after a user has selected their impact areas. We learned through testing that users didn't necessarily need to see the full list of companies in their portfolio, but were satisfied with seeing a small sampling of their invested positions paired with a brief description of how those companies were making an impact in their selected areas. Our testing and iterating process allowed us to refine the balance between overwhelming cognitive load, and offering enough information for investors to feel they were making an informed decision.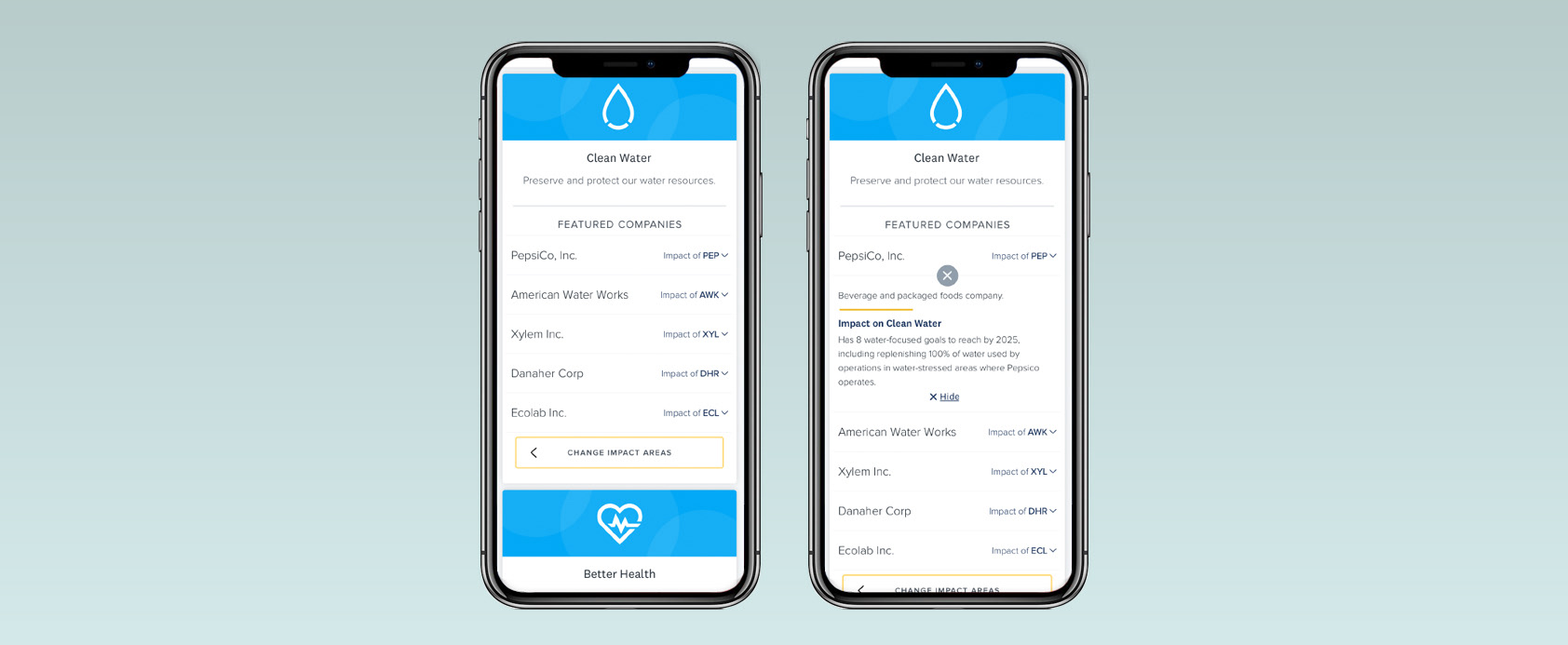 COIN was the first product I've worked on in the fin-tech space and the experience has come with so many learnings for me personally. Behavioral finance is a truly fascinating area of study and I especially loved digging into how novice investors think about their finances and their future. I really enjoyed our team's collaborative working style and how much we all cared about both the product, and the larger mission of COIN (Empowering you to make a difference with your money). I feel really proud of the product we've built and our collective effort to influence the future through design, finance, and technology.